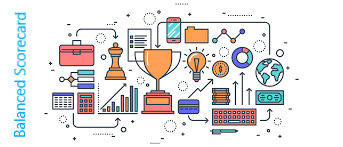 PKR

:

₨2,853

EUR

:

€9

GBP

:

£8

INR

:

₹826

BDT

:

৳ 1,071

IRR

:

﷼420,000
PersonalProfessionalBusiness
Certificate of completion
This course describes in detail the step by step process for building a Balanced Scorecard. This includes how to build strategy maps and extend different components into a common framework. Several best practices are also discussed such as applying evaluation criteria for developing the right performance measurements and rules to follow to keep scorecards simple and clean.

Who Should Attend
This course is recommended for executives, managers, planners and analysts who are part of a balanced scorecard development team and are seeking the best practical ideas for improving organisational performance.
The Benefits of Attending
Participants will understand the key concepts of the balanced scorecard, and why it is gaining so much attention in corporate, non-profit, and governmental organisations. Participants will learn a systematic methodology for building and implementing the balanced scorecard, based on the performance management theory developed at Harvard University. Participants will receive a balanced scorecard toolkit with worksheets in this training course.
Course Content
Basic Concepts
Phase I: The Strategic Foundation
Phase II: Three Critical Components
Scorecard Whitepaper
Balanced Scorecard Templets
Basic Concepts (BC)

00:45:00

Phase I: The Strategic Foundation (BC)

02:00:00
Phase II: Three Critical Components (BC)

02:00:00
Scorecard Whitepaper (BC)
03:00:00
Balanced Scorecard Templets (BC)

06:40:00
We are an educational and skills marketplace to accommodate the needs of skills enhancement and free equal education across the globe to the millions. We are bringing courses and trainings every single day for our users. We welcome everyone woth all ages, all background to learn. There is so much available to learn and deliver to the people.