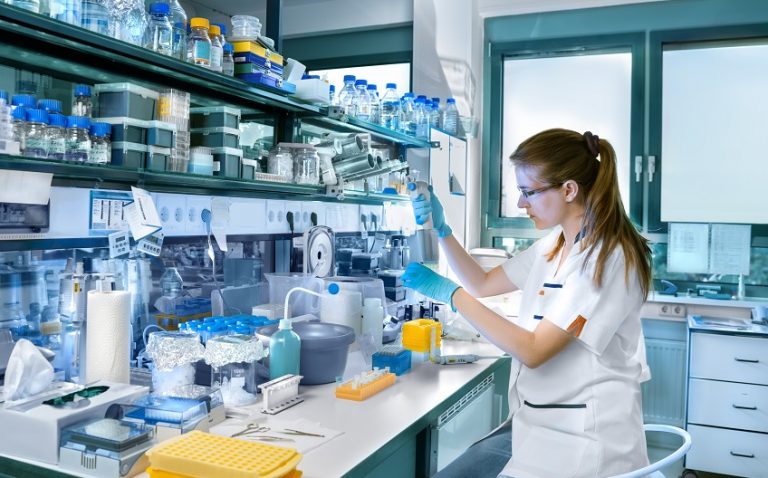 PKR

:

₨2,853

EUR

:

€9

GBP

:

£8

INR

:

₹826

BDT

:

৳ 1,071

IRR

:

﷼420,000
PersonalProfessionalBusiness
Certificate of completion
Biological Laboratory Safety Training designed to help keep you safe while you are experimenting. Some equipment and chemicals in a biology laboratory can cause serious harm. It is always wise to follow all lab safety rules. Don't forget, the most helpful safety rule is to use plain old common sense.
The following biology lab safety rules are a sample of the most basic rules that should be followed when in a biology lab. Most labs have the safety rules posted in a visible place and your instructor will most likely go over them with you before you begin working.
Be Prepared
Before you enter a biology lab, you should be prepared for and knowledgeable about any lab exercises that are to be performed. That means you should read your lab manual to know exactly what you will be doing.
Be Neat
When working in a biology lab, make sure you keep your area neat and organized. If you happen to spill something, ask for assistance when cleaning it up. Also, remember to clean your work area and wash your hands when you are finished.
Be Careful
An important biology lab safety rule is to be careful. You may be working with glass or sharp objects, so you don't want to handle them carelessly.
Wear Proper Clothing
Accidents do happen in a biology lab. Some chemicals have the potential to damage clothing. With that in mind, you want to make sure that the clothing you wear is something you could do without if it becomes damaged. As a precaution, wearing an apron or lab coat is a good idea. You will also want to wear proper shoes that can protect your feet in case something gets broken. Sandals or any type of open-toed shoes are not recommended.
Be Cautious With Chemicals
The best way to remain safe when dealing with chemicals is to assume that any chemical you handle is dangerous. Be sure you understand what type of chemicals you are using and how they should be properly handled. If any chemical comes in contact with your skin, wash immediately with water and inform your lab instructor. Wear protective eyewear when handling chemicals, which brings us to the next rule.
Wear Safety Goggles
Safety goggles may not be the most fashion-forward accessory and can fit awkwardly on your face, but they should always be worn when you are working with chemicals or any type of heating apparatus.
Locate Safety Equipment
Be sure you know where to find all safety equipment in the biology lab. This includes such items as the fire extinguisher, first aid kit, broken glass receptacles, and chemical waste containers. Also be sure you know where all the emergency exits are located and which exit route to take in case of an emergency.
Biology Lab Don'ts
There are several things in a biology lab that you must always avoid—here are a few major laboratory don'ts.
Do Not
Eat or drink in the lab
Taste any chemicals or substances you are working with
Use your mouth for pipetting substances
Handle broken glass with bare hands
Pour chemicals down the drain without permission
Operate lab equipment without permission
Perform your own experiments unless given permission
Leave any heated materials unattended
Place flammable substances near heat
Engage in childish antics such as horseplay or pranks
Hazards

00:20:00

What Legislation Applies

00:10:00

Substances Hazardous

00:10:00

Genetically Modified Organisms

00:10:00

Protective Clothing

00:10:00

Blood & Bodily Fluids

00:10:00
Spillages

00:10:00

Laminar Flow Cabinets

00:10:00

Biological Safety Cabinets

00:10:00
Autoclaves
00:10:00
Disposal of Waste
00:10:00
When in doubt – ASK!!!
00:10:00
Purpose of the Standards Around the World
FREE
00:30:00
British Standards
FREE
02:00:00
European Standards
FREE
02:00:00
Lab Safety Inspecton Form

4 weeks
Biological Laboratory Safety Training Test
00:50:00
We are an educational and skills marketplace to accommodate the needs of skills enhancement and free equal education across the globe to the millions. We are bringing courses and trainings every single day for our users. We welcome everyone woth all ages, all background to learn. There is so much available to learn and deliver to the people.