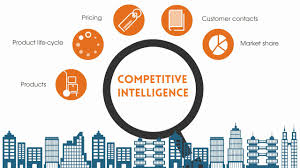 PKR

:

₨2,692

EUR

:

€9

GBP

:

£8

INR

:

₹815

BDT

:

৳ 1,058

IRR

:

﷼420,000
PersonalProfessionalBusiness
Certificate of completion
Competitive intelligence (CI) is the action of defining, gathering, analyzing, and distributing intelligence about products, customers, competitors, and any aspect of the environment needed to support executives and managers in strategic decision making for an organization
Why is Competitive Intelligence important to your business?
Competitive Intelligence (CI) is a method used to gather and analyze information about competitors which may not always be easily obtained or publicly available.
Understanding how competitors will act in the marketplace can build profits and new competitive advantages for your company.  You can adapt your products faster, achieve cost advantages, and differentiate your market position.  CI can help you deter competitive movements and build market share.
Competitive Intelligence Training
A good CI professional may have experience with journalism, interviewing, reporting and writing skills. Alternatively, a market researcher or statistician with strong analytic abilities can often be trained for this role. There are many other backgrounds which at times can lead to successful performance in the CI function.
It is important to understand that CI is focused on gaining insights into what your competition is doing or planning to do while Market Research is customer-focused.  As such, even if customers are surveyed and tell you about their attitudes about your competitors and their usage of their products, they are not a source of knowledge about future strategies of those companies.
SIS trains companies to build internal CI functions.  Founded over 35 years ago as "Strategic Intelligence Systems", we helped build CI departments that can rapidly receive and analyze information from around the world.  We continue this legacy in training companies to be agile CI organizations.
Course Content
Basic Concepts
Tools and Techniques
Critical Concepts
Analytical Models
Some Advanced Techniques
Case Studies
CI Systems
Course Summary
Fundamentals of Competitive Intelligence
Basic Concepts (CI)

02:00:00

Tools and Techniques (CI)

03:00:00
Critical Concepts (CI)

02:30:00
Analytical Models (CI)
05:00:00
Some Advanced Techniques (CI)

02:30:00
Case Studies (CI)
02:00:00
Course Summary (CI)
00:20:00
Fundamentals of Competitive Intelligence (CI)

02:30:00
We are an educational and skills marketplace to accommodate the needs of skills enhancement and free equal education across the globe to the millions. We are bringing courses and trainings every single day for our users. We welcome everyone woth all ages, all background to learn. There is so much available to learn and deliver to the people.