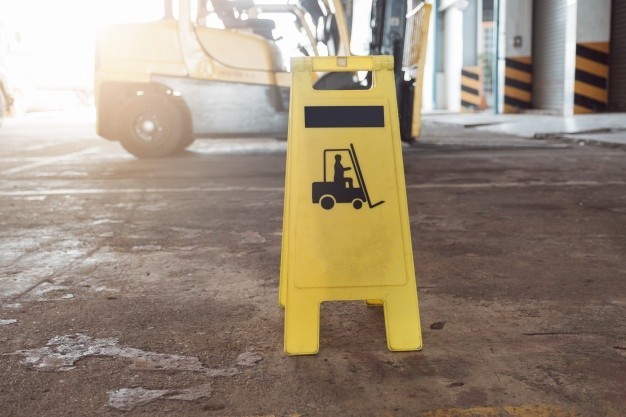 PKR

:

₨1,714

EUR

:

€6

GBP

:

£5

INR

:

₹496

BDT

:

৳ 643

IRR

:

﷼252,000
PersonalProfessionalBusiness
Certificate of completion
Avoid hazards on the floor, slippery or unstable surfaces, bumps, holes, etc. Direct your forklift forward when driving up ramps, but go downhill in reverse. Alert others of your coming with a horn or your voice. Stop only when you have enough space to pause safely.
A forklift in motion is a safety risk in motion. Ensure your operators have received the proper forklift safety training. There are many different types of powered industrial trucks, and each type presents different operating hazards. The most familiar powered industrial trucks are commonly known as pallet trucks, rider trucks, forklifts or lift trucks. Forklifts/Lift trucks are extremely useful in the workplace, as long as they are safely used by trained operators.
Forklift Safety Training Requirements
Employers must develop and implement a training program based on the general principles of safe truck operation, the types of vehicle(s) being used and the hazards they create. Trained operators must know how to do the job properly and safely, as demonstrated by workplace evaluations. Formal (lecture, video, etc.) and practical (demonstration and practical exercises) training must be provided. Employers must also certify that each operator has received the training and evaluate each operator's performance at least once every three years.
Training Program Content
Operators must be initially trained in the following truck-related and workplace-related topics:
Truck Related:

Operating instructions, warnings and precautions for type of truck
Similarities and differences with automobiles
Control and instrumentation location and use
Engine or motor operation
Steering and maneuvering
Visibility
Fork and attachment limitations and use
Vehicle capacity
Vehicle stability
Vehicle inspection and maintenance
Refueling or charging batteries
Operating limitations
Other operating instructions, warnings or precautions listed in the operator's manual

Workplace Related:

Surface conditions where the truck is used
Load composition and stability
Load stacking, unstacking and transport
Pedestrian traffic
Narrow aisle and restricted area operation
Operation in hazardous locations
Ramp and sloped surface operation
Unique or potentially hazardous conditions
Operating the vehicle in closed environments
Because powered industrial trucks are manufactured by different companies with various models available, the training must be specific to the operating characteristics of the specific powered industrial truck the employee will be using. If an operator was previously trained on one of these topics, and the training is appropriate to the truck and working conditions encountered, additional training on that topic is not required if the operator has been evaluated and found competent to operate the truck safely.
Who Would Benefit:
Individuals requiring forklift certification
Forklift operator trainers
Forklift operators
Warehouse/shipping/receiving managers
Construction site managers
Safety managers
Safety committee members
Operations managers
Forklift Checklist
4 weeks
Forklift Checklist
28, 00:00
Forklift Online Test

01:00:00
We are an educational and skills marketplace to accommodate the needs of skills enhancement and free equal education across the globe to the millions. We are bringing courses and trainings every single day for our users. We welcome everyone woth all ages, all background to learn. There is so much available to learn and deliver to the people.