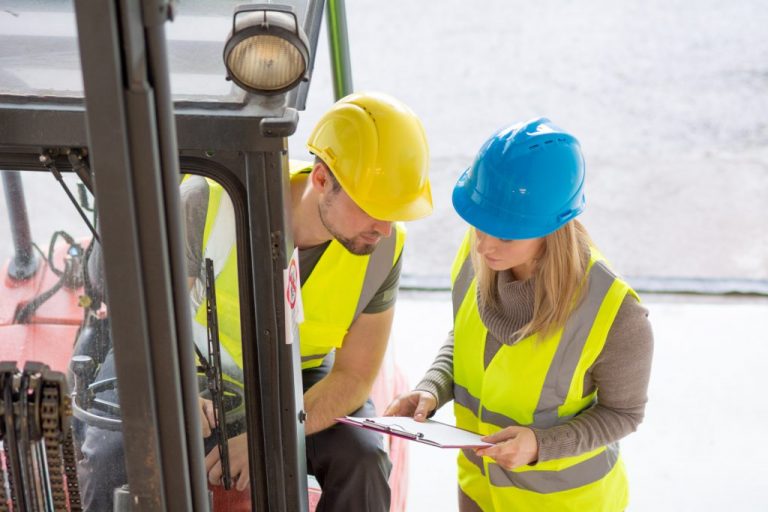 PKR

:

₨2,857

EUR

:

€9

GBP

:

£8

INR

:

₹826

BDT

:

৳ 1,072

IRR

:

﷼420,000
PersonalProfessionalBusiness
Certificate of completion
You may have questions about forklift certification - we have answers. Learn how to become a certified forklift operator, about forklift certification requirements, certification training, legal requirements, and much more.
WHY IS FORKLIFT CERTIFICATION REQUIRED?
Many forklift-related accidents are attributed to operator carelessness or the operator being unfamiliar with their forklift operating equipment.
Forklift certification helps ensure that forklift operators are trained and aware of the risks and dangers associated with operating a forklift in their environment.
Studies show that businesses that implement proper forklift training programs for their operators and perform daily pre-shift inspections are more likely to reduce forklift accidents in addition to helping lower their downtime and costs. Additionally, the pre-shift inspections can help identify maintenance issues to further increase forklift life, develop operator skills and potentially lower forklift downtime.
DO ALL FORKLIFT OPERATORS NEED TO BE CERTIFIED?
Yes, it is the law. The Institute of Occupational and Professional Skills (IOPS) requires all forklift operators to be certified before operating a lift truck or warehouse product. Proper training and evaluation are completed prior to the operation of industrial forklifts.
The goal of IOPS forklift certification is to reduce the number of injuries due to unsafe lift truck usage in the workplace. This certification may benefit employers by reducing accidents, lowering the cost of insurance and reducing lift truck and property damage.
IS THERE A WRITTEN FORKLIFT CERTIFICATION TEST?
A written test is often given to evaluate and prove that the forklift operator is trained and knowledgeable enough to operate a lift truck during forklift certification. It is not, however, specifically required by IOPS, although some form of evaluation will be required to achieve certification.
It should be noted that a written test is often one of the easiest methods for evaluation. Your state may require a written test through an IOPS-approved safety and health program.
Features and Benefits
By taking IOPS' Forklift Operator Certification Preparation for Industry online course, you will learn about a major safety device, required by IOPS, that can save any lift operator's life. Once you have successfully completed this course, you should:
Take your required performance test given by your employer to receive a forklift operator certificate
Demonstrate knowledge and skills in lift inspection and evaluation
Be well-versed in Industry safety guidelines for safe fork truck operations
General

00:20:00

Student Learning Outcomes

00:10:00

Injury

00:20:00

Training Requirements

00:40:00

Fork Lift Safety Program

00:30:00

Fork Lift Types And Designations

00:20:00

Basic Fork Lift Principles

01:30:00

Fork Lift Operating Principles

00:40:00

Handling And Moving Loads

00:40:00

Dangerous Driving Conditions

01:00:00

Reach Truck Safety

00:30:00

Contractor Safety Requirements

00:20:00

Case Study 1

00:20:00
Case Study 3
00:20:00
Purpose of the Standards Around the World
FREE
00:30:00
British Standards
FREE
02:00:00
European Standards
FREE
02:00:00
Forklift Checklist

4 weeks

Forklift Checklist

28, 00:00
Forklift Online Test
01:00:00
We are an educational and skills marketplace to accommodate the needs of skills enhancement and free equal education across the globe to the millions. We are bringing courses and trainings every single day for our users. We welcome everyone woth all ages, all background to learn. There is so much available to learn and deliver to the people.