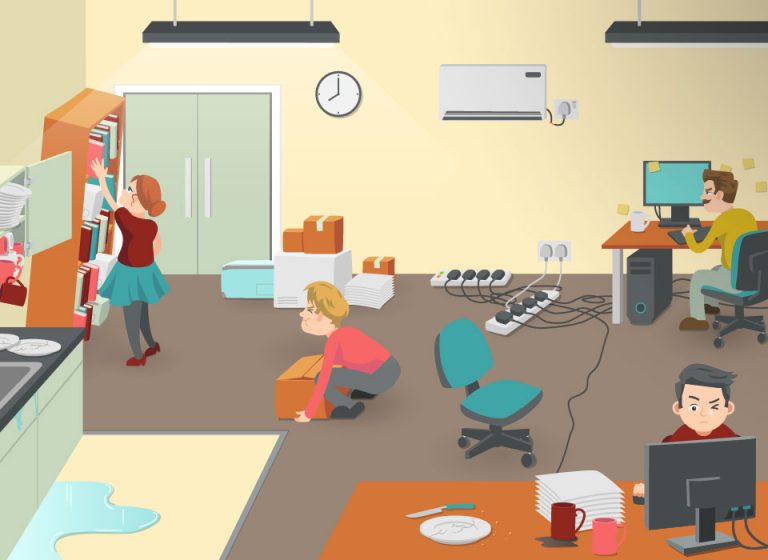 PKR

:

₨571

EUR

:

€2

GBP

:

£2

INR

:

₹165

BDT

:

৳ 214

IRR

:

﷼84,000
PersonalProfessionalBusiness
Certificate of completion
Just because you spend your days working in an office, doesn't mean that you are completely safe from hazards and potential on the job injuries. An office is still filled with people, and people are prone to mistakes that can lead to minor or severe accidents. Below, you'll find a list of training topics that are required for most Office Workers.
When you think of safety training, your mind goes to factory and warehouse workers wearing hard hats and using forklifts. We can't forget safety training for office employees. While we most often associate workplace injuries with construction, drilling, mining, or manufacturing jobs, injuries can occur even if you spend most your workday sitting at a desk. Therefore, office safety training is vital to creating a safer workplace. A clutter-free office environment and first-aid training can go a long way in ensuring occupational safety at the office.
General Office Safety

01:00:00

Safe Work Practices

00:20:00

Materials Handling

00:40:00

Signs and Tags

00:30:00

Ergonomics

00:30:00

Electrical Safety

00:40:00

Accident Reporting

00:20:00

Office Equipment Safety

00:10:00
Common Office Chemicals

00:10:00

Hazard Communication

00:30:00

Hazard Communication Standard (HazCom)

00:10:00

Indoor Air Quality

00:50:00
Noise
00:40:00
Emergency Action Plan
00:10:00
Blood borne Pathogens
00:10:00
First Aid
00:10:00
Fire Procedures

00:10:00

Emergency Evacuations

00:10:00

Employee Safety

00:10:00
Importance Of Health And Safety In The Workplace
FREE
00:10:00
Basic Health & Safety at Workplace Video
FREE
00:20:00
Office Safety Assessment & Reporting
4 weeks
Office Safety Test

00:45:00
We are an educational and skills marketplace to accommodate the needs of skills enhancement and free equal education across the globe to the millions. We are bringing courses and trainings every single day for our users. We welcome everyone woth all ages, all background to learn. There is so much available to learn and deliver to the people.