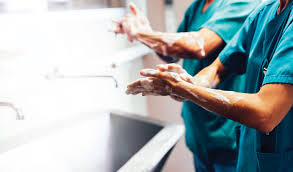 Certificate of completion
Infection control and prevention is essential for businesses where work activities could put employees at risk of passing on or contracting an infection. This includes working in a healthcare environment, in close contact with people or animals, and cleaning human and animal waste. Infections are easily passed on, but equally easy to avoid if everyone on the premises takes proper preventative action. Collection of CNA2 Acute Care presentations, materials and hand-outs, lab conduct sheet, handbook and other assignments.
Who Should Take This Course?
This Infection Control training course is suitable for anyone who works in an environment where there is a significant risk of infections transferring. This includes:
Nurses
Health care assistants
Dentists
Cleaners
Refuse workers
Chiropodists and Acupuncturists
Tattooists
Anyone who works with animals, including vets
Teachers, public servants and everyone should do this training in case epidemic
Infaction control

01:40:00

Safety

00:30:00

CNA2 Handbook

00:50:00
We are an educational and skills marketplace to accommodate the needs of skills enhancement and free equal education across the globe to the millions. We are bringing courses and trainings every single day for our users. We welcome everyone woth all ages, all background to learn. There is so much available to learn and deliver to the people.