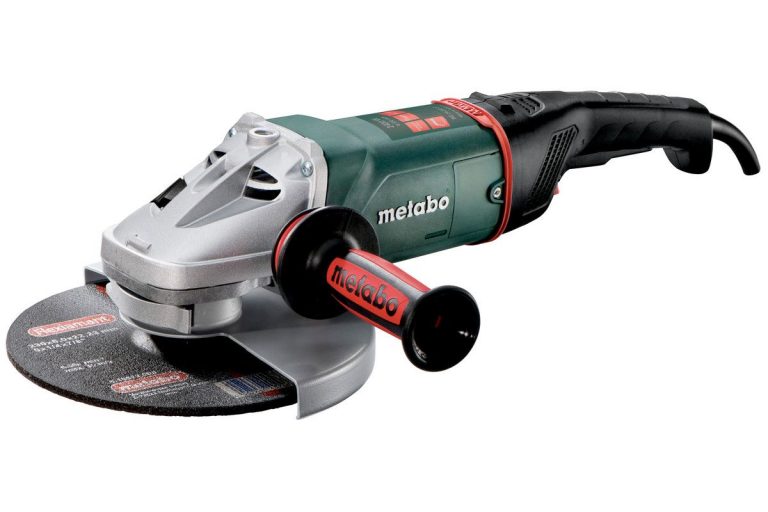 PKR

:

₨571

EUR

:

€2

GBP

:

£2

INR

:

₹165

BDT

:

৳ 214

IRR

:

﷼84,000
PersonalProfessionalBusiness
Certificate of completion
Metabo's reputation for making tough, dependable, and safe tools remains unparalleled with their newly redesigned angle grinders. New safety and performance features make metal grinding safer and easier than ever before. The new motor design gives users 20% more power and 20% more overload capacity for faster cuts and longer service life. New anti-vibration systems such as Autobalance and Vibratech Handle reduce operator discomfort while making the tool last longer. The safety clutch protects the operator from kickback and the safety brake stops wheels in 2 seconds or less in case of operator kickback or loss of control. If you need grinder that's safe, dependable, and works as hard as you do, look no further.
Metabo angle grinders for any application More and more companies from metal trade and industry rely on Metabo angle grinders. The powerful machines with overload capacity have become vital in everyday work. When cutting or roughening metal they do a good job, in connection with diamond cutting discs even stone and concrete can be cut. Metabo angle grinders are available for all disc diameters in varied versions for mains operation with a rated input power of 750 to 2,600 watt. Alternatively, Metabo has many powerful cordless angle grinder up to a disc diameter of 230 mm in its programme range. For companies working with compressed air, there is two air angle grinder for 125 mm discs. Entry criterion for angle grinders is the disc diameter. Discover your Metabo angle grinders Ø100-150 mm in the range up to 150 mm or angle grinders Ø180-230 mm in the range of 180 to 230 mm disc diameter. All models are equipped with a guard, clamping set and side handle. Specialist for stainless steel and acute angles If gets tight for others, the flat-head angle grinders get only started. The specialist with the particularly gear head can grind down to narrow angles of 39° ((at 150 mm diameter). Therefore it is ideal for removing rust, lacquer or welding sludge in narrow frame constructions and when working in confined spaces. There is flat-head angle grinder both with cable and also as cordless for operation independently from the power grid. Some angle grinders are developed especially for processing stainless steel. A thigh torque and a reduced speed range adapted to stainless steel ensure cool grinding without blue discolouration. This specialist carries the word Inox in their names and is available in different versions, also as flat-head angle grinders Inox. With Metabo angle grinders on the safe side Working with angle grinders is not without danger. High forces and permanent vibrations can lead to loss of control. With our safety functions, we would like to prevent and permit safe working. For angle grinders with dead man function (P in the designation), the motor is switched off immediately after releasing the switch. If an additional braking system is integrated (B in the designation), the disc stops within 2-3 seconds after switching off. When the disc jams in the material, the kickback torque can hit the user with full force. This kickback is reduced extremely thanks to the Metabo S-automatic safety clutch or an electronic safety shutdown (depends on model). For angle grinders with an Auto-balancer (A in the designation), imbalances on the discs are balanced for particularly low-vibration and low-fatigue working. Further safety functions are the restart protection against unintentional starting after a power cut and the soft start for a smooth start-up. Some angle grinders have all these safety functions integrated and thus offer the best possible user safety. The right disc matters Metabo has an extensive range of cutting and grinding discs for any application area. Depending on the requirement, there are several quality classes in all relevant diameters: from basic quality with good cutting and material removal to premium quality with very high cutting performance and maximum tool life. For cutting concrete and stone, the Metabo diamond cutting discs are used. Even here there are quality classes for all requirements in all relevant diameters. Further cutting and grinding accessories such as cup wheels, flap discs, fibre discs and cleaning fleeces as well as steel-wire brushes for cleaning, deburring and rust removal as well as special accessories for processing stainless steel can be found in the Metabo range of accessories for angle grinders.
We are an educational and skills marketplace to accommodate the needs of skills enhancement and free equal education across the globe to the millions. We are bringing courses and trainings every single day for our users. We welcome everyone woth all ages, all background to learn. There is so much available to learn and deliver to the people.