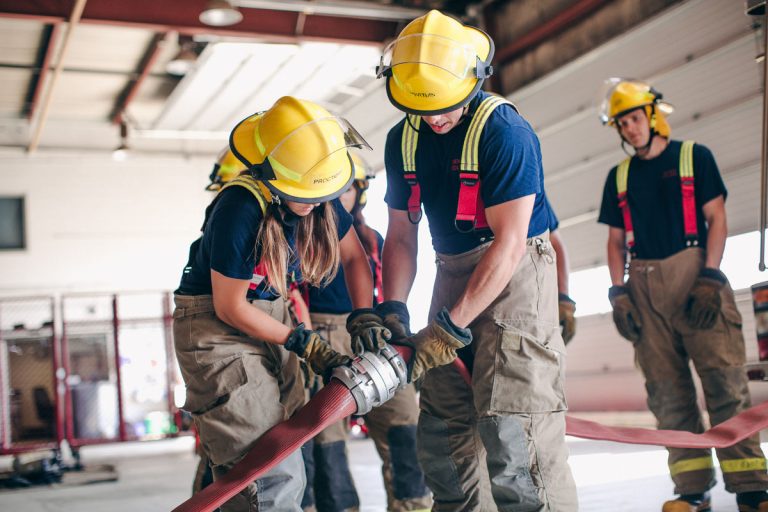 PKR

:

₨857

EUR

:

€3

GBP

:

£2

INR

:

₹248

BDT

:

৳ 322

IRR

:

﷼126,000
PersonalProfessionalBusiness
Certificate of completion
Firefighting is the act of attempting to prevent the spread of and extinguish significant unwanted fires in buildings, vehicles, woodlands, etc. A firefighter suppresses fires to protect lives, property and the environment. Firefighters typically undergo a high degree of technical training. This involves structural firefighting and wildland firefighting. Specialized training includes aircraft firefighting, shipboard firefighting, aerial firefighting, maritime firefighting, and proximity firefighting.
One of the major hazards associated with firefighting operations is the toxic environment created by combustible materials. The four major risks are smoke, oxygen deficiency, elevated temperatures, and poisonous atmospheres. Additional hazards include falls and structural collapse that can exacerbate the problems encountered in a toxic environment. To combat some of these risks, firefighters carry self-contained breathing equipment. The first step in a firefighting operation is reconnaissance to search for the origin of the fire and to identify the specific risks. Fires can be extinguished by water, fuel or oxidant removal, or chemical flame inhibition.
Firefighters Skills:
Firefighting requires skills in fire suppression, rescue, and hazardous materials mitigation. Firefighters must also have, or be able to acquire, knowledge of department organizations, operations, and procedures,
and the district or city street system
 they will have to negotiate in order to perform their duties. They must meet minimum physical fitness standards and learn various firefighting duties within a reasonable period.
Examples are:
Building construction
Fire dynamics
Firefighting PPE
Fire extinguishers
Ropes and knots
Ground ladders
Forcible entry
Structural search and rescue
Tactical ventilation
Fire hose operations and streams
Fire suppression
Overhaul, property conservation, and scene preservation
Building materials, structural collapse, and effects of fire suppression
Technical rescue support and vehicle extrication operations
Foam fire fighting, liquid fires, and gas fires
Hazardous materials response
Specialized Skills:
Specialized areas of operations may require subject-specific training. A hose team training to fight an aircraft fire aboard a US aircraft carrier, 2006 Examples are:
Fire apparatus driver/operator - trained to drive fire apparatus to and from fires and other emergencies, operate fire-apparatus pumps and aerial devices, and maintain apparatus.
Hazardous materials technician - certified to mitigate hazardous materials and CBRNE emergencies.
Rescue technician - certified to perform rescues such as high-angle rope, trench, structural collapse, confined space, vehicle and machinery, water, ice, and cave or mine rescues.
Airport firefighter - trained in ARFF.
Wildland firefighter - trained to extinguish fires in outdoor vegetation, including the wildland/urban interface.
We are an educational and skills marketplace to accommodate the needs of skills enhancement and free equal education across the globe to the millions. We are bringing courses and trainings every single day for our users. We welcome everyone woth all ages, all background to learn. There is so much available to learn and deliver to the people.