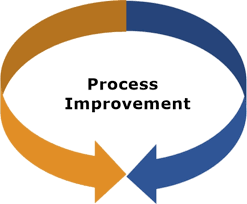 PKR

:

₨2,286

EUR

:

€7

GBP

:

£6

INR

:

₹661

BDT

:

৳ 858

IRR

:

﷼336,000
PersonalProfessionalBusiness
Certificate of completion
As the global leader in professional training, we offer excellence, providing the very best learning and development solutions customized to your exact needs. We have a proven track record, delivering public, in-house and online courses for the world's largest companies and government organizations. Plus, with expert trainers that are experienced practitioners in their field, our training moves beyond theory, giving you valuable real-world insights. As a result, you can trust us to provide high-quality consistent training and development at every level of your organization – anywhere in the world.
How this course can help
The Process Improvement Techniques training course introduces several well-known techniques for process improvement. It includes the following modules: Data Measurement, Data Analysis, Process Improvement using Statistics and Statistically Designed Experiments.
Who is it for?
Process Improvement Techniques training course is designed for graduates in an engineering or science discipline who are responsible for process outputs. If it's appropriate, we can 'bolt-on' two extra modules: Six Sigma for Managers and The Basics of Lean. These modules provide background information to help you understand these two very effective improvement techniques. Please note, however, that these two modules are not aimed at Six Sigma or Lean practitioners as they only give an overview.
How long is the course and when is the next one?
The course is two days long, or three days with the extra modules. As with all of our training courses (apart from the Aluminium Rolling Technology Course), it is bespoke. This means we design this course specifically to your requirements, taking into account your products, processes and the experience of your people. We then send our consultants to deliver the course on your site at a time that is convenient for you. You get the training you really need in the most efficient way possible; everyone learns together whilst avoiding costly travel expenses.
Training Content
Some Good Starting Points
Fundamental Tools of the Trade
Capability Maturity Model (CMM)
Six Sigma
Lean Thinking
Course Summary
Analytical Thinking
Some Good Starting Points (PI)

00:45:00

Fundamental Tools of the Trade (PI)

01:15:00
Capability Maturity Model (CMM) (PI)

00:45:00
Six Sigma (PI)
00:45:00
Lean Thinking (PI)

01:00:00
Analytical Thinking (PI)
02:00:00
We are an educational and skills marketplace to accommodate the needs of skills enhancement and free equal education across the globe to the millions. We are bringing courses and trainings every single day for our users. We welcome everyone woth all ages, all background to learn. There is so much available to learn and deliver to the people.