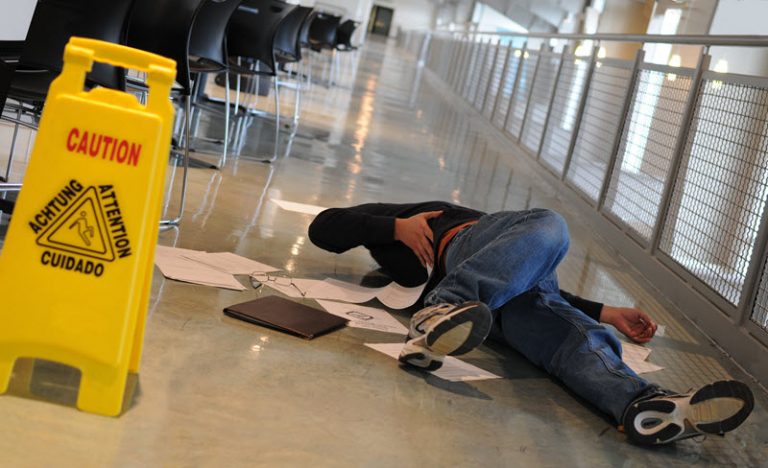 Certificate of completion
A number of our members have seen an increase in the number of slips, trips and falls reported from offshore vessels in the past twelve months. There is a clear need to raise awareness and highlight several serious incidents involving slips and trips.
Slips and trips are one of the most common causes of major injuries at work. The worst kind of these accidents can prove to be fatal but they can also lead to cuts, bruises, head injuries, back injuries, and fractures. All slips and trips are preventable if all procedures, processes and risk assessments are followed. Everyone has a personal and shared responsibility to work together cooperatively to prevent workplace injuries.
The following issues, in particular, may be highlighted:
Stairs – distraction, rushing, weather conditions etc;
Contamination of flooring – contamination can be classed as anything that should not end up on a floor, e.g. rainwater, oil, grease, cardboard, product wrapping, dust, etc;
Walkways – trailing cables, stored items, debris, unsecured mats, changes in levels and slopes etc;
Obstacles – whether permanent or temporary;
Housekeeping – a large percentage of trip accidents are caused by poor housekeeping. So improving housekeeping helps eliminate a large number of accidents;
Environment – weather, noise, humidity, condensation, lighting, vessel movement etc;
Suitable footwear – can play an important part in preventing slips and trips, choose the appropriate work footwear;
People or human factors – how people act and behave in their work environment – fatigue, loss of concentration, horseplay, and low-risk perception, etc.
In conclusion:
The incidents described here were all wholly avoidable. Luckily many of these cases resulted in minor injuries to the individuals. However, the potential was there for a more severe injury to have been sustained;
For some, safety only becomes an important consideration when they are doing a dangerous job or task. They rationalize that safety procedures can be bypassed or ignored when the task is simple, small, 'routine' and seemingly presents little risk of injury. Unfortunately, this type of thinking is why many 'routine', and apparently safe tasks or jobs, end up resulting in accidents;
The habit of working safely should not be limited to those activities or tasks that are the most difficult or dangerous. 'Work safe habits' should be part of your everyday work 'routine'. If safety is not incorporated into every job or task you do, it is really only a matter of time before an accident occurs;
All worksite areas should be free from hazards through effective planning, procedural controls and risk assessment of tasks;
Effective toolbox talks, supervision and an ongoing review of working practices are essential to ensure learnings are identified, acted upon and shared.
Course Content
Slips, Trip & Fall
Slip and Fall
Trip and Fall
Step and Fall
Contributing Factors
Falls From Ladders
Falls From Vehicles and Equipment
Falls From Loading Docks
Falls on Stairs
Fixed Ladders
Fall Protective Devices
Signs and Stripping
Learning How to Fall
Recommendations
Safe Start
Slips, Trip & Fall

00:20:00

Slip and Fall

00:15:00

Trip and Fall

00:10:00

Step and Fall

00:10:00

Contributing Factors

00:10:00

Falls From Ladders

00:15:00
Falls From Vehicles and Equipment

00:15:00

Falls From Loading Docks

00:10:00

Falls on Stairs

00:15:00
Fixed Ladders
00:10:00
Fall Protective Devices
00:10:00
Signs and Stripping
00:10:00
Learning How to Fall

00:10:00

Recommendations

00:10:00

Safe Start

00:25:00
Importance Of Health And Safety In The Workplace
FREE
00:10:00
Basic Health & Safety at Workplace Video
FREE
00:20:00
Slips Trips Falls
00:45:00
We are an educational and skills marketplace to accommodate the needs of skills enhancement and free equal education across the globe to the millions. We are bringing courses and trainings every single day for our users. We welcome everyone woth all ages, all background to learn. There is so much available to learn and deliver to the people.