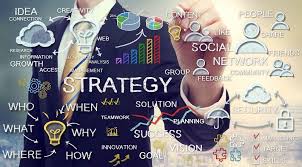 PKR

:

₨1,929

EUR

:

€7

GBP

:

£6

INR

:

₹652

BDT

:

৳ 836

IRR

:

﷼336,080
PersonalProfessionalBusiness
Certificate of completion
Strategic planning is an organizational management activity that is used to set priorities, focus energy and resources, strengthen operations, ensure that employees and other stakeholders are working toward common goals, establish agreement around intended outcomes/results, and assess and adjust the organization's.
Overview
Our training courses in Business Strategy and Planning address the most significant question facing managers in today's business – how do we create tomorrow's organisation out of today's organisation? The answer to this question can be provided only by means of a programme of rigorous analysis and actionable planning. Completing these courses will put you in a position to make a significant contribution to the processes of change and development that are needed if an organisation is to remain competitive and effective in an increasingly global business environment. Under the guidance of our highly skilled and experienced instructors, you will develop your skills in international business analysis, strategic choice, linkage with operational management, supply chain dynamics, finance, and other vital activities on which business success can be gained and sustained. Our training courses will introduce you to contemporary best practice in each of these fields and will enable you to build the required core competencies, strengthen your management skills and enhance your confidence and effectiveness in identifying and implementing performance improvement initiatives. Register today to obtain the knowledge you need to broaden your skillset and drive your organisation's bottom-line profitability.
This strategic planning training will help you:
Create strategies that are easy to understand, implement and measure.
Identify risks and roadblocks early so you save money and time by not being surprised by uncertainty.
Build a strategy that is uniquely derived from your team's strengths; creating a longer-lasting competitive advantage
Create a strategy that your whole team will get behind and work towards.
Get buy-in early to make the process of change and growth easy and enjoyable.
Course Content
Preliminary Considerations
Organizing the Process
Assessing the Situation
Developing the Strategic Plan
Implementing the Strategic Plan
Additional Content
Strategic Planning Model
Strategic Planning Manual
Baldridge Model
Preliminary Considerations (SP)

05:00:00

Organizing the Process (SP)

05:00:00
Assessing the Situation (SP)

05:00:00
Developing the Strategic Plan (SP)
05:00:00
Implementing the Strategic Plan (SP)

04:10:00
Strategic Planning Manual (SP)
03:20:00
Strategic Planning Model (SP)

01:40:00
We are an educational and skills marketplace to accommodate the needs of skills enhancement and free equal education across the globe to the millions. We are bringing courses and trainings every single day for our users. We welcome everyone woth all ages, all background to learn. There is so much available to learn and deliver to the people.