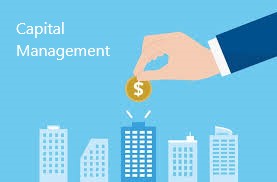 PKR

:

₨2,282

EUR

:

€7

GBP

:

£6

INR

:

₹661

BDT

:

৳ 857

IRR

:

﷼336,000
PersonalProfessionalBusiness
Certificate of completion
Capital management. An accounting strategy that strives to maintain sufficient and equal levels of working capital, current assets, and current liabilities. This helps a company to meet its expense obligations while also maintaining sufficient cash flow and is primarily related to short term financial decisions.
The long-term investments we make today will determine the value of our business tomorrow. In order to make long-term investments in new product lines, new equipment and other assets, managers must know the cost of obtaining funds to acquire these assets. The cost associated with different sources of funds is called the cost of capital. Cost of Capital represents the rate a business must pay for each source of funds - debt, preferred stock, common stock, and retained earnings.
Course Content
Basic Concepts and Theories
Calculating the Cost of Capital
Financial Decision
Who should do this training 
Anyone who wishes to work in the financial sector. And all the member of organization makes financial decision. This training aims to give an understanding of capital management and productivity of organisational operations through the sensible financial decision.
Basic Concepts and Theories (CM)

01:00:00

Calculating the Cost of Capital (CM)

00:45:00
The Financial Decision (CM)

02:00:00
We are an educational and skills marketplace to accommodate the needs of skills enhancement and free equal education across the globe to the millions. We are bringing courses and trainings every single day for our users. We welcome everyone woth all ages, all background to learn. There is so much available to learn and deliver to the people.